Winter Season Hunt Horses for Hire
Summer Hunt Simulation Rides on our horses or bring your own. May to Oct around our farm . See below for details
Winter…Experience the music of the hounds singing in full cry and the vision of the pink coats on the horizon!!!!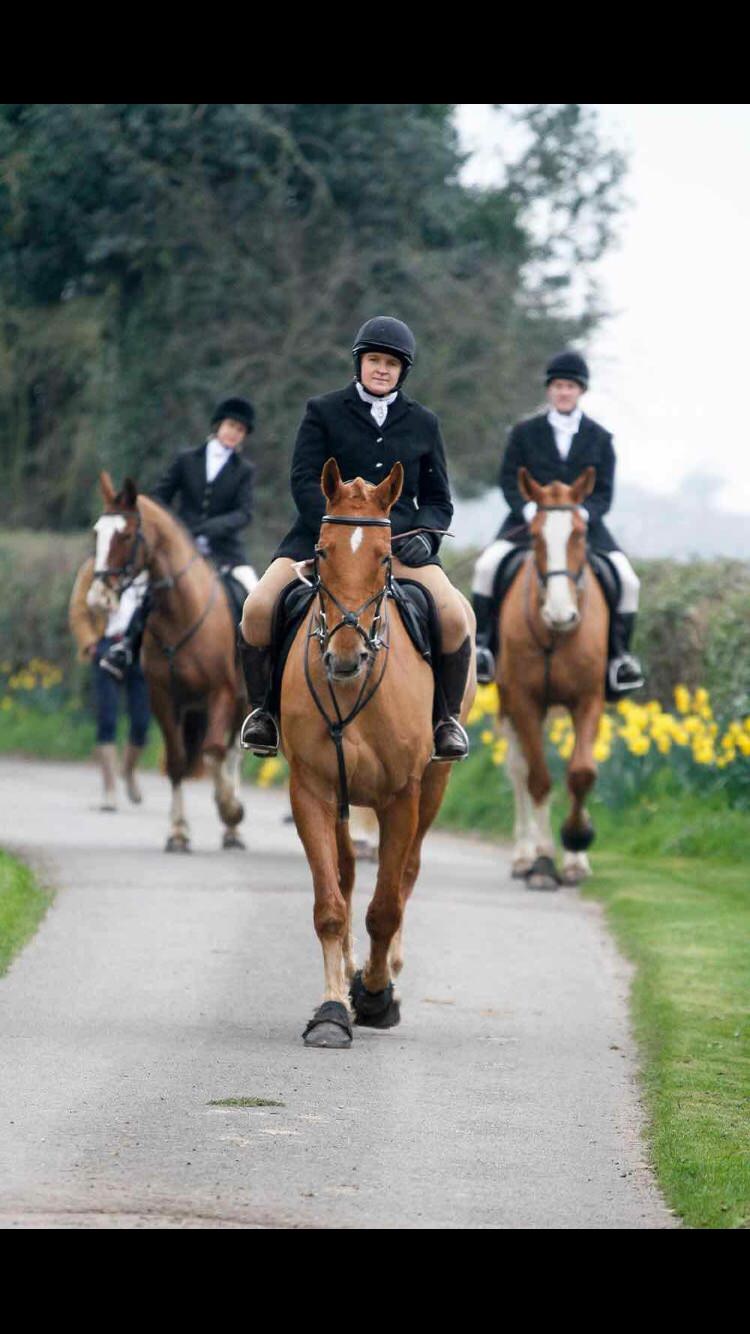 Have you ever wanted to try our age old tradition of a day out trail hunting hounds on horseback but either didn't know how to go about it or didn't want to use your own horse. Well look no further. We have quality well-mannered hunters available for hire from 14.2 hands up to 17 hands. All horses are fit and good jumpers if you so wish or will walk away from the field if you want to take the long way round through a gate with the non-jumpers. Don't be discouraged by the thought that you will have to jump. This is not the case. The horses are chosen for their forward going attitude and temperaments' and will look after you to the best of their ability as we also hope you will look after them and treat them as your own for the day.
The cost of hunt hire is per day and is typically from 10.30am to 2pm or at least heading back to the lorry at around about that time. It includes delivery and turnout for the meet and collection. All inclusive fees.
Credit cards, Paypal or Bacs payments are taken for deposits when booking.
Dependent on the type of day/distance to the meet/type of horse the prices are from £210 per day.
Your daily Hunt cap is payable independently to the hunt secretary and is arranged and bartered between yourselves. This ranges from approx. £45 to £90 per day depending on the hunt. I have good deals with the Wheatland and the Ludlow for your hunt caps.
My price is for our regional hunts which include Wheatland, Ludlow, Worcester's, AWH, United . North and South Shropshire.
Hunts further afield can be catered for at additional cost.
If you would like to try the horse before you hunt this is available at a cost of £35 for a one hour.
Summer…
BACK NOW BY EVER POPULAR DEMAND .
DATES RELEASED
2020  Simulated Hunt Rides
BOOK NOW TO AVOID DISAPPOINTMENT.
ITS BACK !!!!
2020 SUMMER SIMULATED HUNT RIDES
BOOK NOW TO AVOID DISAPPOINTMENT.
Saturday's 
2 may
6 june
4 july
22 aug
19th sept
Even more new jumps added for even more excitement!🦊🐎🏇
COME AND JOIN THE FUN FOR OUR SIMULATED HUNT RIDES!!!!! ON YOUR HORSES OR OUR EXPERIANCED HIRE HORSES.
Bank Farm Equestrian
Arley
Bewdley
Worcestershire
Details:
CAPABLE/CONFIDENT RIDERS NEED ONLY APPLY!!!!!
Riders must be able to jump at least 3ft and be confident cantering down hill. That's not to say all jumps are over 3 foot but the caliber of rider should be confident not nervous novice !!!
£90 for our hire horses
Or
£50 bring your own
Inclusive of your glass of Dutch courage at the start, thrilling  full on XC chase, a midway swig and pub stop with a drink to recover and refresh.
Allow 2 hours for the whole experience .
(And believe you me that's enough)
Think hunting and team chasing combined and you are somewhere near .
If you have ever wanted to experience the thrill of hunting in a group every man or woman for themselves but without the hounds here is your chance.  Riding to hold your own.   The jumps will involve natural hunt style rails tiger traps, hedge and brush fences  natural Ditches streams,  pools and  logs and banks . All jumps are
Optional if there are some you don't fancy there will be safety riders bringing up the rear to show you round .
But this ride is geared towards people that want to jump so there would be no point coming if the intention is go round everything . Minimum 55 fences !!!!
To confirm your booking a £30 NON REFUNDABLE deposit is required to secure your horse or place on the day.  Then the balance is due by cash or card on the day . If you can't make it please let me know in plenty of time we have waiting lists for our hire horses and  for people with there own horses I cater for the numbers I have booked  in on the day so a no show with no notification is not  appreciated.  So please do let me know if you are unable to attend so it gives other people a chance .
Private parties can be catered for on Wednesdays  mid week . minimum 6 riders to run up to max 12 on hire horses.
Own horses welcome  up to any number .
Bacs details for deposit transfers to are 20-46-06 13384306  please use name and date as ref Please ring or text number below or email on bfrt@hotmail.co.uk or pm on fb . To confirm payment and place
Many thanks
Angie Bloomfield .
Tel 07815474316
All riders participate at their own risk .
Hunt dress NOT required but
Body protectors or air jackets are compulsory to ride.
Secure your date now !!